Habaneros, A Local Favorite with the "Distintivo T" Award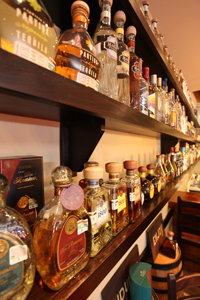 With a few new menu items to surprise you this season, expect the same from the local favorite, Habanero's Gastro Grill and Tequila Bar, the same smiling service, generous portions of consistently delicious food at a price that´s kept clients coming back for the last nine years.
Come, have fun learning about and tasting tequila here – Habaneros was given the "Distintivo T" award by the Mexican Tequila Regulating Agency for their knowledge and support of the industry. With more than 125 tequilas, look forward to a "flight of the week" coming this season! Each flight will feature a White, Reposado, Añejo and Extra Añejo tequila.
Locals love the multitude of options beginning with interesting taco choices, a great variety of burgers, designer salads and much much more, all using the freshest local ingredients. Continuing this season is our Taco Tuesdays and Burger Wednesday promotion offering 25% discount from 11:00am – 3:00pm on these days. As well every day Happy Hour 3:00pm– 5:00pm with 2 X 1 national drinks.
Mother and son team, Christine and Tadd also want to thank all of our loyal clients for helping us achieve another successful "Canadian Thanksgiving Dinner". And… for all our clients celebrating American Thanksgiving dinner join us for our 10th annual traditional turkey dinner on November 28th.
A recent Trip Advisor review for Habaneros:
"Authentic Mexican cuisine, reasonable prices, excellent service and staff. Lots of parking and best of all for a restaurant… it has been there for years and it is consistently a pleasure to dine there, that does not happen by accident."
This particular aforementioned review is due to our striving for excellence in service, quality and a family-type of atmosphere. We truly care and listen to our distinguished clientele and have enjoyed serving them for nearly a decade. We thank you!